Picture it 1984, it was a Sunday, I remember because that was "movie day" for my 3 siblings and I. Mommy would take us from Bushwick to Flatbush to that big movie theater, it might be Kings Theater now, not sure, it's been so long. But what I do remember is her taking us to see Purple Rain.  I vaguely remember his songs before going to see that movie, but I remember knowing every word, every song, every eye movement, every dance, every punchline when I walked out of that theater. I wasn't even 10 years old when that movie came out.  But I remember falling in love with this pretty, sexy mother &%O*%_# who humped stages;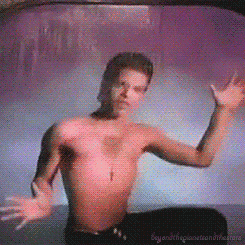 sang like a wild cat in a celibate rage, wore eye liner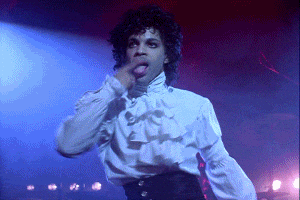 made the most interesting noises I'd ever heard coming out of a performers mouth and strummed the entire fuck out of some guitar strings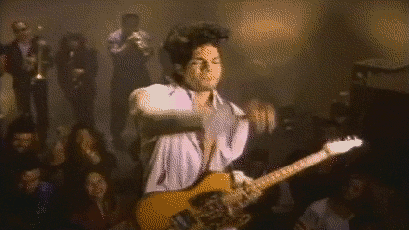 .
At the end of the movie, when he performed Purple Rain, my young budding creative heart fluttered. I was in heaven! Ididnt see weird, I didn't see "gay" I didn't see "freak" I saw ART! I saw creativity I saw Love. I saw a frickin masterpiece! I couldn't believe that someone could create a piece of work so fucking beautiful! I couldn't put it in words back then, but I knew when I walked out of that theater that I had a new favorite artist, my musical pallet had been tested and tried.  At the time, Whitney Houston was and still is my girl. But she stood alone until Prince came along and in my heart and soul they both learned to co-exist. But after Prince, there was no such thing as other fave male artists. It was Prince and then it was … them.
As I got older, Prince songs became the sound track to many of my life lessons.  When I couldn't find that right job or that new boo, Pop Life would play in my head.  Every time I thought a man truly loved me, I imagined him listening to "Adore" and thinking about me.  Every time I broke a fuck boys heart, I walked down the block with "Beautiful Ones" as my theme music.  My oldest brother would sing "Raspberry Beret" until my sister and I realized we needed to be his Wendy and Lisa and just deal.  "Darlin' Nikki" was my alter ego for many years until I decided to add my name to "I wanna be your lover," (I wanna turn you on, turn you out, all night long make you shout! Ayanaaaaa, yeah)  Get Off made me feel dirty in a great way, "you better have a mother for me, now move ya big ass roun' this way so I can work on that zipper babyyyy, tonight, you're a star and I'm the big dipper!"
Many nights after sinning, listening to Insatiable or Do me Baby,  til this day I purify myself in the waters of Lake Minnetonka as Prince suggested after I've been up to no good.
Some people like to say that Prince is the only womanly man that could "bag bitches," But I beg to differ. Even as a child, I never shied away from the androgyny,  the ruffles, the ewwwwwwwuh! nothing.  I was intrigued, he was sexy, he was a man, especially when he opened his mouth and let us hear that baritone and especially for how he adored women like only an Alpha Male could.
Diamonds and Pearls always made me cry, it was such a beautiful song and when he passed the first song I played was Diamonds and Pearls and I sobbed for Prince. Yes I did. Compassionate people cry when singers die because these artists write the soundtracks to our love, pain, glory and life. When they die, they take some of our most profound memories with them.  And so even though he took all his music off of the internet, I didn't fret, I didn't break a sweat because in my large book of CD's and on my Itunes, my beloved Prince took up the entire "P" section of artists with his music.
Okaaaaay?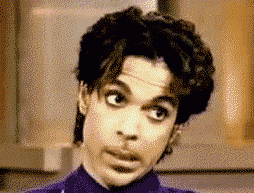 Prince was a sexual savage
and he loved God. Ain't that the story of most of our lives? He elevated and evolved so gracefully and in a way that most of us are striving for every day without worrying what others think.  He did what he loved and blocked out the nay sayers. From a press and curl, to shittin on Halle Berry's signature cut, to rockin a damn fro, Prince was unapologetically him and not a single fuck was given on any day. Quiet, secure in his manhood, talented, loving, God-fearing, sexual, icon, Prince Nelson Rogers was and has always been my main man.
I will never get over Prince because he was a prime example of being yourself and loving every minute of it. Not once did he conform to society's standards of what a man or a black man should be.  I don't care who you were, you'd clutch your girl a bit tighter when Prince entered the room, show me the lie in this statement!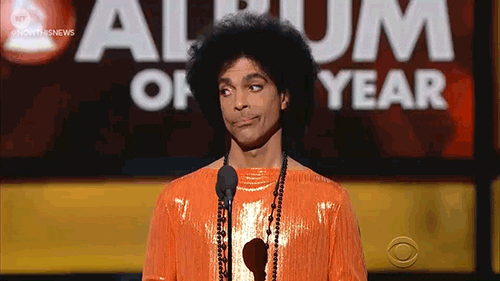 The music that plays at the end of Pink Cashmere puts me in a great mood always, I play the air guitar and let it rock out. Nothing Compares 2 U makes me wanna fall in love, Call My Name makes my soul rejoice, some of the most beautiful love songs written were hidden under the beauty of instruments being played and Prince's high pitched screams but decoded, you will find and hear a man that loves love, loves good sex, loves God and loved his people so much so that he quietly gave to them, right under our noses because as he stated, "I didn't need any more attention."
From being the first to believe in our beloved Misty Copeland to providing for Lauryn Hills' children during the time when she was having tax issues, to donating to many schools, multiple charities, the mothers of our beloved deceased black boys by the hands of police brutality, every day a new love for Prince and a new respect for Prince grows as we hear more and more about his quiet philanthropy, his big heart and his giving soul.
Even larger than what he gave financially are the stories we have of his sense of humor as countless celebrities recall laughing with Prince, playing ball with Prince, getting kicked out of his house for cursing too much, the list goes on and on.
Prince was an artist that I expected to see front row and center at an awards ceremony in his honor, dressed in ruffles at the age of 80, coming on stage to sing his greatest hits as I jumped up and down in my living room like I have done for many others before him.
I will never get over losing Prince because issues we deal with every day has his name on it, his love on it and his spirit on it. The sky turned purple and a rainbow appeared over his fucking mansion when he died for crying out loud!
Prince gave us his heart and fucking soul. Prince gave us HIM! He was ours, the last of a dying breed of real musicians. Prince gave us Diamonds and Pearls…. if he could he would have given us the world.
Peep some of his greatest moments. Your favorite could NEVER!
"Like Books and Black Lives, Albums Still Matter."
-Prince
Prince sings Beautiful Ones, while Misty Copeland dances

Prince 2007 Half Time Superbowl Show

Prince and Sheila E. perform Love Bizarre